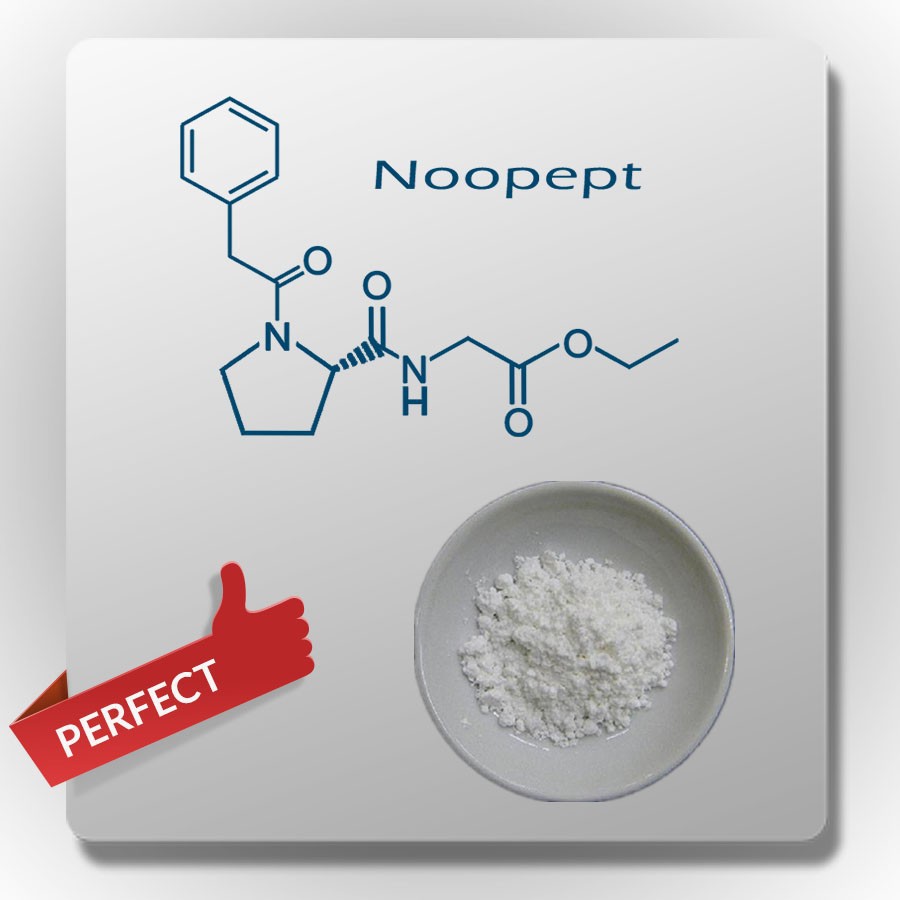 Items

Specifications

Results

Methods

Assay (As Dried Base %)

NLT98.5~101%%

99.82%

HPLC

Appearance

Crystalline Powder

Complies

Visual

Identification

Positive

Complies

IR&1H NMR

Color

White to Colorless

Complies

Visual

Odor & Taste

Characteristic

Complies

Organoleptic

Loss on Drying

NMT1.00%

0.28%

USP

Melting Point

97℃-98℃

97℃-98℃

USP

Residue on Ignition

NMT 0.5%

0.08%

USP

Total Heavy Metals

NMT10ppm

Complies

USP

Related Substance

Meet the requirements

Complies

USP

 

Packing

1kg/bag, packing in aluminum foil-bags and two sealed plastic-bags inside.

Storage

Store in a well-closed container at 5℃ or below, Keep seal when not in use.

Shelf Life

3years when properly shored
Noopept is a new smart nutrient, it is a peptide what peptide sequence N-phenylacetyl-L-prolylglycine ethyl ester.
Together with Huperzine A, the noopept will dominate the nootropic market in the near future.

Applications:

1. Enhance memory
2. Treatment of Alzheimer's disease
Noopept is prescribed in Russia and certain other eastern-european countries, though not in America.
Noopept is also readily crosse the blood-brain-barrier following oral administration in modest doses,  though some people claim  it has higher bioavailabilty sublingually and is ineffective orally (I can find no evidence for this, aside from anecdotal reports).
For minimal order: 1KG/Aluminium foil bag, 5 bags in a carton
(Can be customized)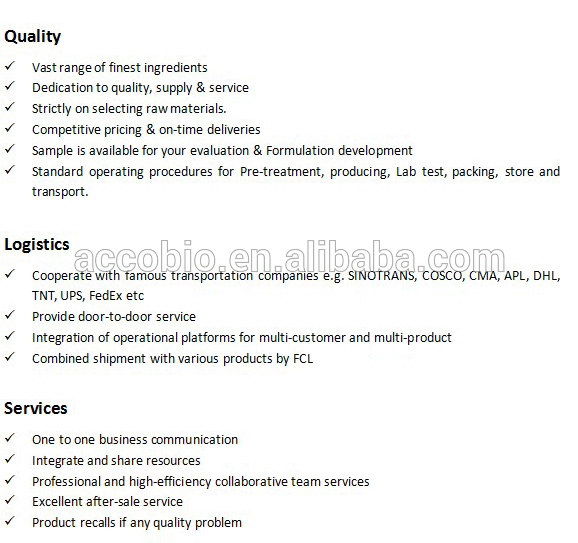 Wuxi AccoBio Biotech Inc. is located in the beautiful city of Wuxi, Jiangsu Province. We pride ourselves on being the professional supplier & manufacturer of an extensive range of high quality health/lifestyle/sports nutritional raw materials, APIs and fine chemicals. It helps Nutritional Supplements and Pharmaceutical Industry to provide extensive products for Sports Nutrition & healthy living as well as helps the clients' purchasing work easier and more cost-saving.

Quality Control
Quality Control of Health Sources
 
1. A system in accordance with GMP standard, supervision on whole production process-
2. Health Sources is equipped with advanced detecting device, such as AFS, GC, HPLC, UV etc, supply the detailed Certificate of Analysis
3. Procurement-Strictly on selecting raw materials
4. Production-Strictly according to the standard specifications, conform to USP, EP, BP, CP, AJI, FCC etc pharmaceutical and/or food standards
5. Warehousing and storage: Clear and dry condition with suitable temperature.
6.Transportation - Audit and supervise the logistics environment to ensure storage safety
7. Keep samples for all batches goods to be traceable in case of quality discrepance.
 
What is ISO 9001:2008?
ISO stands for International Standards Organization. The "9001:2008" designation is the specific standard under which our Quality Management System is certified. Since 2003, Wuxi AccoBio Biotech Inc. has successfully implemented a quality system in accordance with the requirements of ISO 9001:2008 quality standard for custom packaging of essential oils, natural cosmetics and their raw materials. We are audited each year to International Standards by Certified auditors. They ensure that our system conforms; specifically we are required to meet the following obligations: Annual Customer Service survey Every customer concern must be logged and trended The Management Team must meet monthly with documented meeting notes All approved vendors must be listed and gone through appropriate screening Internal audits must take place each quarter We must demonstrate objective evidence of improvement We must have written processes and procedures for the following:

• Defining Management Responsibilities
• Defining Training requirements and responsibilities
• Establishing and Evaluating Quality Vendors
• Control of Product
• Control of Non-conforming product
• Production planning
• Calibration and testing of equipment
• Inspection and acceptance criteria
• Purchasing and receiving
• Identify business elements that can affect quality
• Documentation and record keeping
• Master list of approved forms
• Traceability from purchase through to end user
• Verification and storage of product
• Effective handling and packaging
• Analysis of data
Please click here to download a copy of our ISO 9001:2008 registration.

What is an MSDS?
 MSDS stands for Material Safety Data Sheet. It provides detailed product information needed by material handlers and emergency workers on physical and chemical data. This includes melting points, boiling points, flash points, reactivity, first aid instruction, toxicity, storage recommendations, disposal instructions, control measures, protective equipment instructions, and spill and leak procedures. 

What is a Certificate of Analysis?
 A Certificate of Analysis is the result of testing against acceptable parameters. Certificates of Analysis can look quite different from product to product, industry to industry. However, with Essential Oils, measurement quite often consists of the dominant constituent of a particular oil. 

Quality Assurance
Quality Assurance laboratory is well designed as per pharma standards having chemical and microbiological sections, apart from instrumentation room. All sections have latest testing instruments, which are handled by qualified and experience technical personnel assuring the quality of in put raw material and final products as per laid down specifications. In process control ( IPC ) tests are carried out at specified stage of processes to conform that quality standards are met .AccoBio Quality Assurance team monitors the quality of the products right from the raw materials procurement stage to the expiry date of the finished product, thus ensuring the customers get the finest products. In order to insure the quality, AccoBio control raw material strictly. All the products should be record with all the procedure so that we can check each step easily.

Lab equipment:
• HPLC
• ECD-GC
• UV-VIS Spectrophotometer
 

Equipment introduction:
• 4 sets of 6 M3 multifunctional stainless extracting tank
• 4 sets of 1.5MT stainless external reflux combination
• 1 set of 2.4MT dual-action falling-film evaporator
• 4 sets of glass lining reaction vessel
• 6 sets of 350*1500 PE chromatographic column
• 250 vertical spray drying tower
Production  procedure is according to GMP standard strictly to ensure the uniformity and stability of our products.


Contact us if you need more details on Noopept/n-1-phenylacetyl-l-prolylglycine Ethyl Ester. We are ready to answer your questions on packaging, logistics, certification or any other aspects about Noopept、N-1-phenylacetyl-l-prolylglycine Ethyl Ester. If these products fail to match your need, please contact us and we would like to provide relevant information.
Product Categories : Brain Health