#detail_decorate_root .magic-0{border-bottom-style:solid;border-bottom-color:#a8a8a8;font-family:Roboto;font-size:24px;color:#000;background-color:#a5a5a5;font-style:normal;border-bottom-width:2px;padding-top:8px;padding-bottom:4px}#detail_decorate_root .magic-1{vertical-align:top}#detail_decorate_root .magic-2{vertical-align:top;display:block;padding-right:4px;box-sizing:border-box;padding-left:4px}#detail_decorate_root .magic-3{vertical-align:top;padding-bottom:4px;box-sizing:border-box;padding-top:4px}#detail_decorate_root .magic-4{padding:0;margin:0;white-space:pre-wrap;font-size:14px}#detail_decorate_root .magic-5{font-size:20px}#detail_decorate_root .magic-6{font-size:18px}#detail_decorate_root .magic-7{white-space:normal}#detail_decorate_root .magic-8{width:750px;border-collapse:collapse}#detail_decorate_root .magic-9{min-height:18px;padding:5px 10px;width:726px;min-height:18px;box-sizing:content-box}#detail_decorate_root .magic-10{display:none}#detail_decorate_root .magic-11{min-height:18px;padding:5px 10px;width:127px;min-height:18px;box-sizing:content-box}#detail_decorate_root .magic-12{min-height:18px;padding:5px 10px;width:284px;min-height:18px;box-sizing:content-box}#detail_decorate_root .magic-13{min-height:18px;padding:5px 10px;width:725px;min-height:18px;box-sizing:content-box}#detail_decorate_root .magic-14{min-height:18px;padding:5px 10px;width:126px;min-height:18px;box-sizing:content-box}#detail_decorate_root .magic-15{min-height:18px;padding:5px 10px;width:285px;min-height:18px;box-sizing:content-box}#detail_decorate_root .magic-16{width:750px}#detail_decorate_root .magic-17{overflow:hidden;width:750px;height:749.25px;margin-top:0;margin-bottom:0;margin-left:0;margin-right:0}#detail_decorate_root .magic-18{margin-top:0;margin-left:0;width:750px;height:749.25px}#detail_decorate_root .magic-19{overflow:hidden;width:750px;height:688.5px;margin-top:0;margin-bottom:0;margin-left:0;margin-right:0}#detail_decorate_root .magic-20{margin-top:0;margin-left:0;width:750px;height:688.5px}#detail_decorate_root .magic-21{overflow:hidden;width:750px;height:733.5px;margin-top:0;margin-bottom:0;margin-left:0;margin-right:0}#detail_decorate_root .magic-22{margin-top:0;margin-left:0;width:750px;height:733.5px}#detail_decorate_root .magic-24{font-size:24px}#detail_decorate_root .magic-25{font-size:32px}#detail_decorate_root .magic-26{font-size:28px}#detail_decorate_root .magic-27{font-size:16px}#detail_decorate_root .magic-28{padding:0;margin:0;color:#333;font-size:14px;padding-left:4px;font-weight:bold;white-space:pre-wrap}#detail_decorate_root .magic-29{overflow:hidden;width:750px;height:750px;margin-top:0;margin-bottom:0;margin-left:0;margin-right:0}#detail_decorate_root .magic-30{margin-top:0;margin-left:0;width:750px;height:750px}#detail_decorate_root .magic-31{margin-bottom:10px;overflow:hidden}#detail_decorate_root .magic-32{overflow:hidden;width:750px;height:958px;margin-top:0;margin-bottom:0;margin-left:0;margin-right:0}#detail_decorate_root .magic-33{margin-top:27px;margin-left:1px;width:749.9999999999999px;height:1145.7236842105262px}#detail_decorate_root .magic-34{overflow:hidden;width:750px;height:1460px;margin-top:0;margin-bottom:0;margin-left:0;margin-right:0}#detail_decorate_root .magic-35{margin-top:0;margin-left:0;width:750px;height:1682.6923076923076px}#detail_decorate_root .magic-36{border-bottom-style:solid;border-bottom-color:#53647a;font-family:Roboto;font-size:24px;color:#53647a;font-style:normal;border-bottom-width:2px;padding-top:8px;padding-bottom:4px} Product Description 2021 Hot Sale Zinc Gummy Chewable Vitamin Supplements 30mg with Echinacea for Immune Support
| | | | |
| --- | --- | --- | --- |
| Product name :   Zinc vitamin gummies | | | |
| Specification :  60 gummies/bottle | | | |
| Main ingredient: 30mg zinc, Echinacea, vitamin  | | | |
| MOQ : 100 bottles | | | |
| Advantage :  Immune system,increase healing and infection-fighting abilities | | | |
| Warning:  keep away from children. Keep in dry and cool place.        | | | |
| Logo:  Customized Logo Available, support private label | | | |
| Shipping : Fast shipping via DHL , Fedex ,UPS  (24 hours on line) | | | |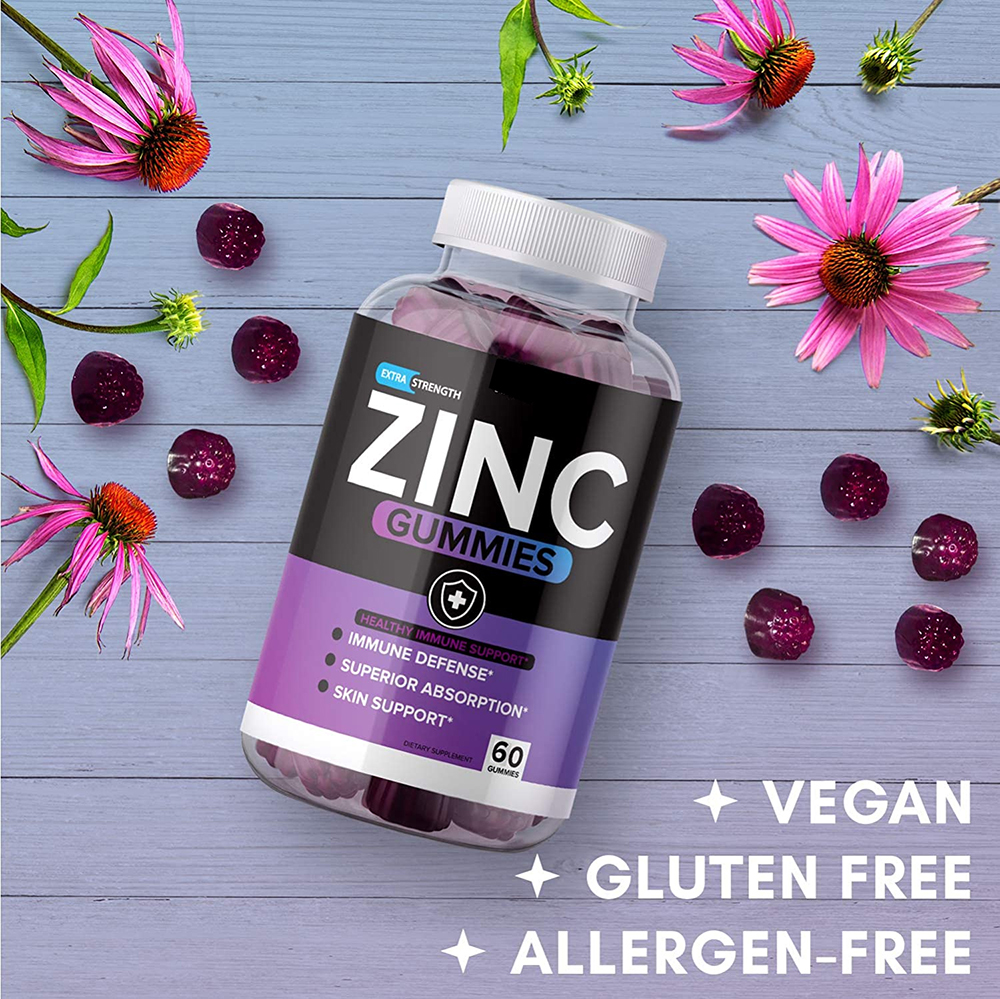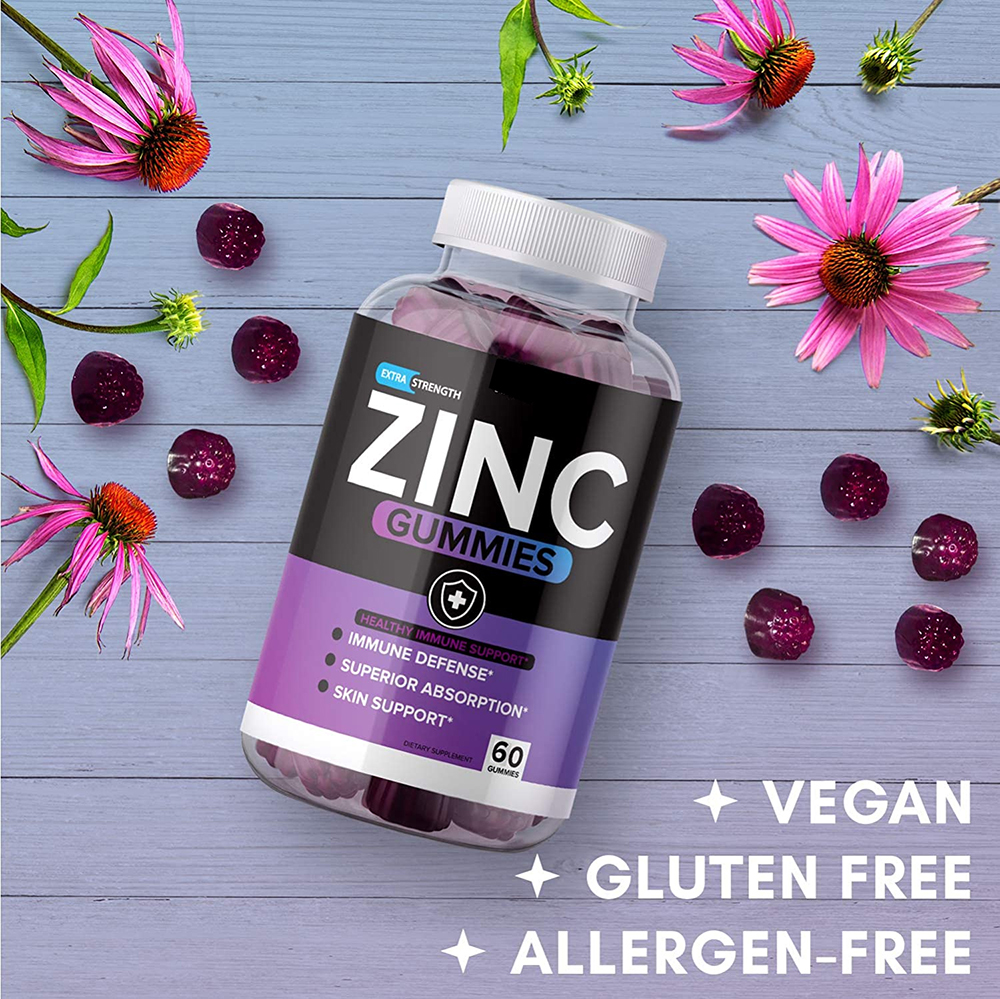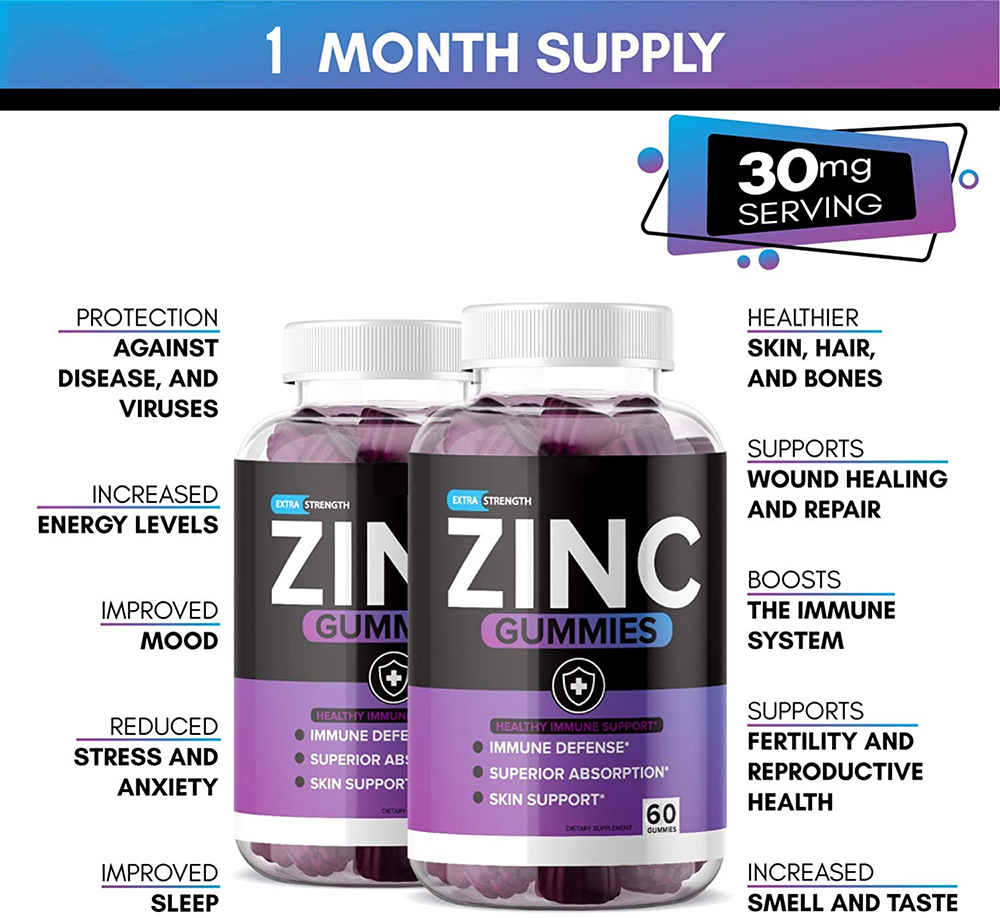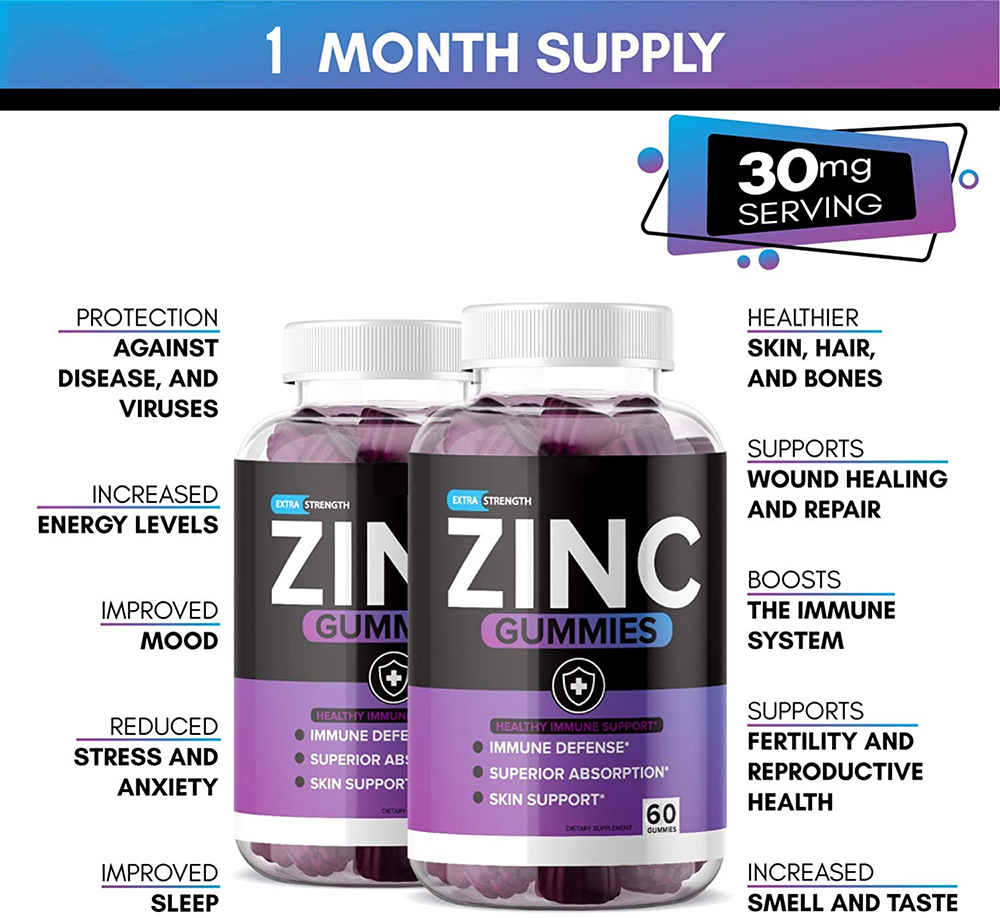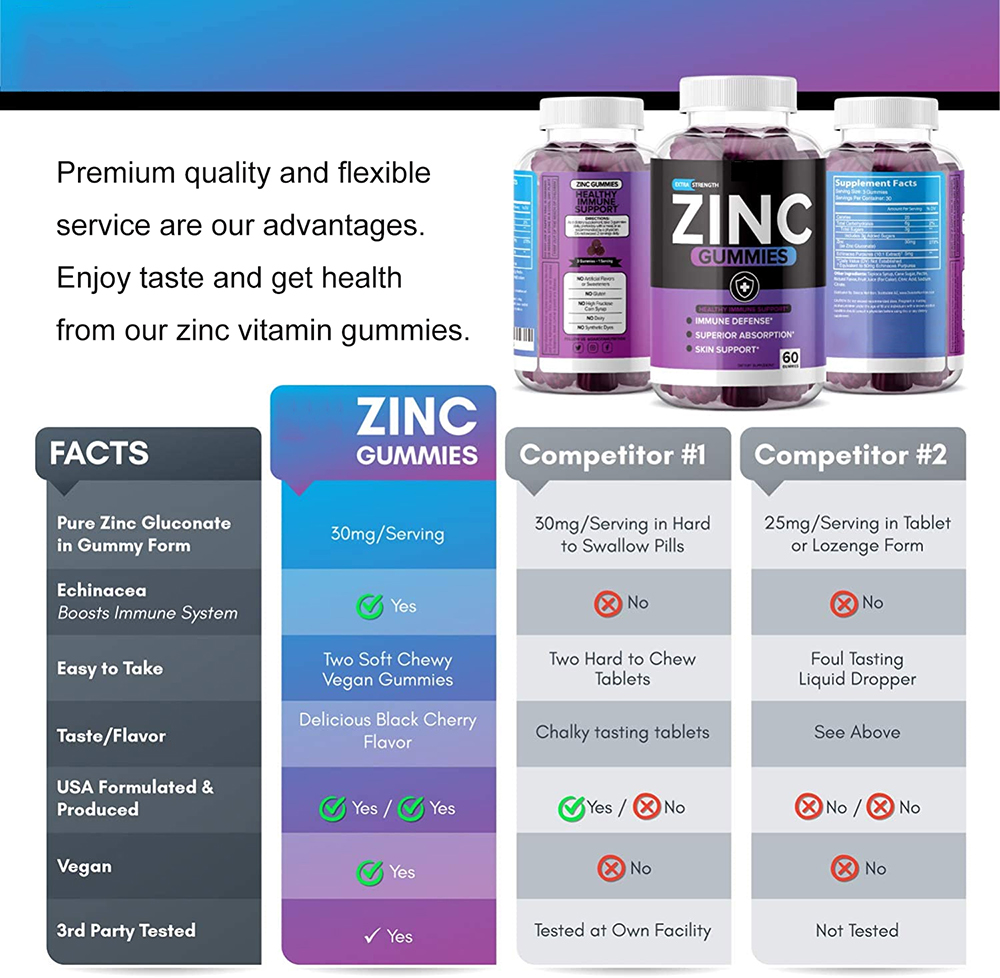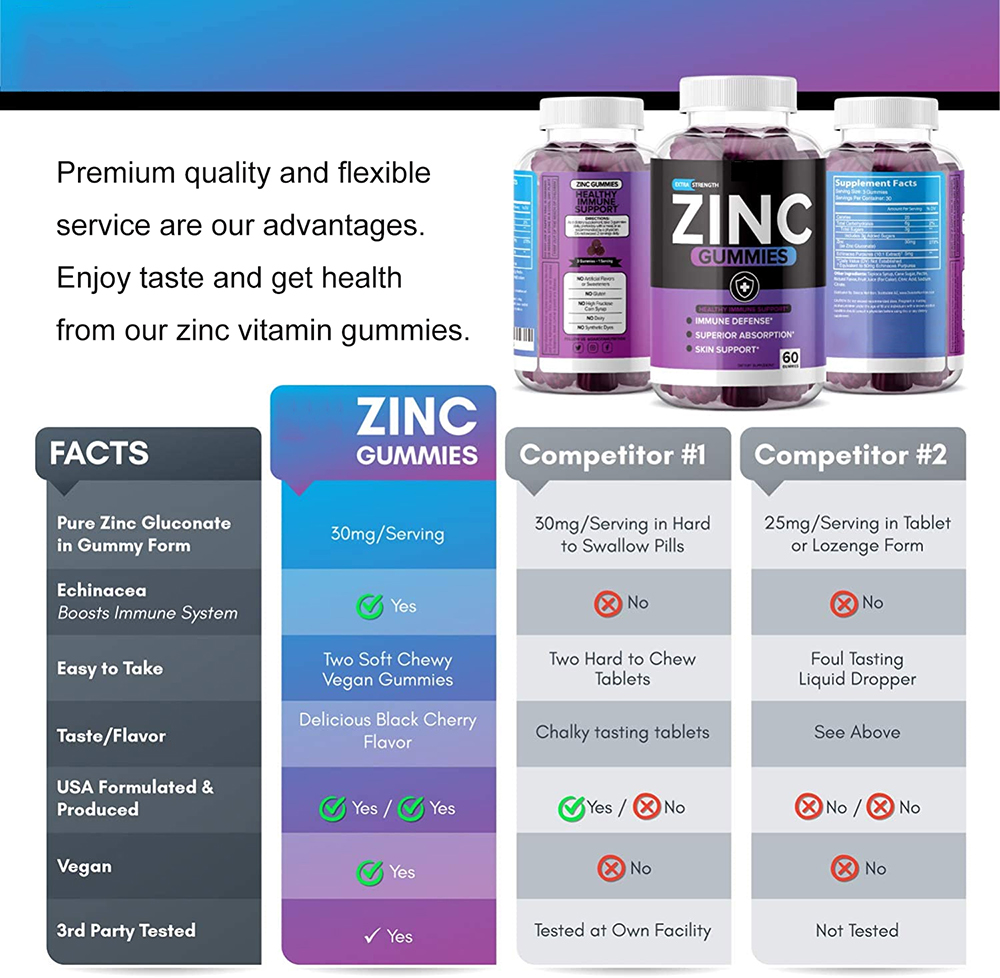 What is ZINC ?
Zinc is a key mineral essential for life and overall wellbeing. Today, many people are deficient in zinc. That's why it's crucial to take a high quality zinc
Supplement
daily. Our Organic Zinc Sulfate only contains zinc sulfate, organic glycerin, purified water, and a hint of organic apple juice for flavor! It's also free from any citric acid, natural flavors, alcohol, corn, or any detrimental ingredients. Vimergy Zinc is a supplement you can feel great about!
Advantages: * Zinc is an essential mineral for human health * Supports healthy metabolism and a healthy immune system
* Zinc is an antioxidant * Supports healthy eye function * Zinc supports healthy DNA synthesis / gene expression * Our Organic Zinc Sulfate only contains zinc sulfate, organic glycerin, purified water * Organic, Alcohol-Free, Gluten-Free, Non-GMO, Kosher, Corn-Free, Vegan & Paleo Friendly * No Citric Acid or Fillers, Additives, or Natural Flavors
How to Use
Serving: Take 2 gummies daily, Swallow after chewing.
Related Product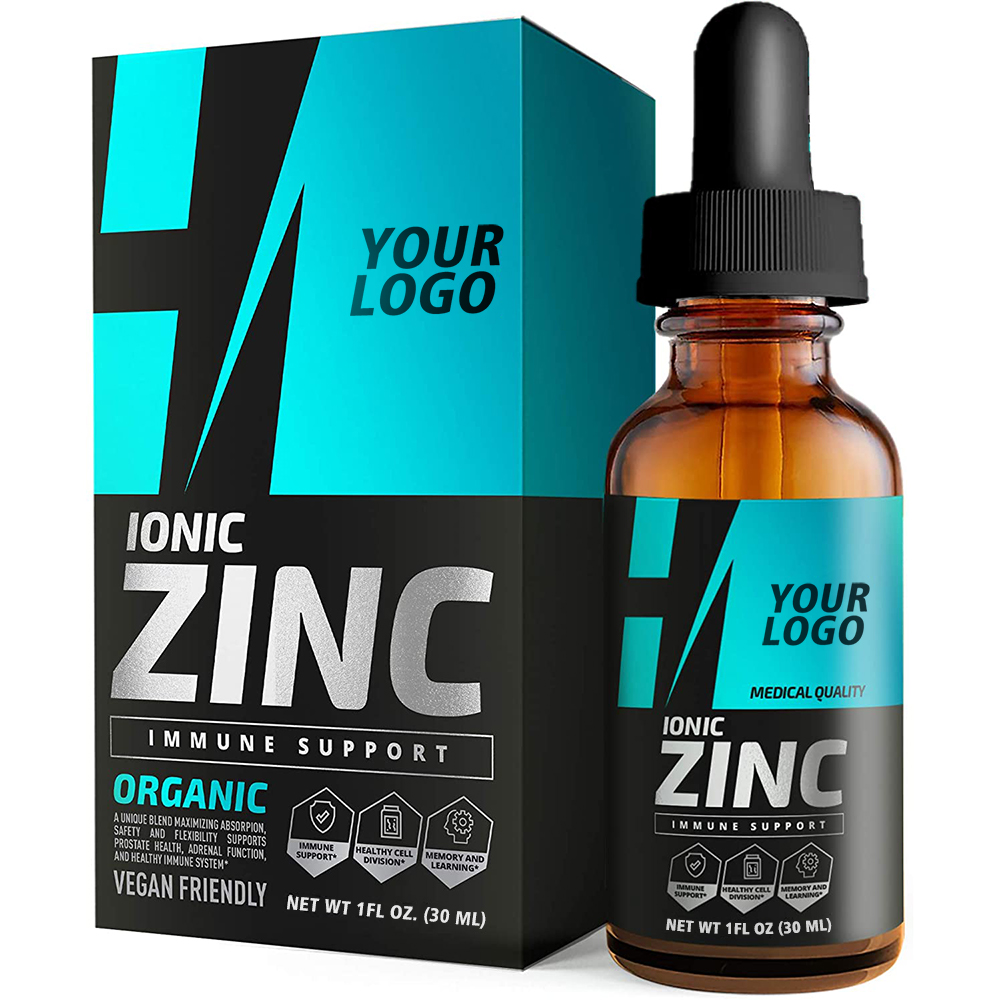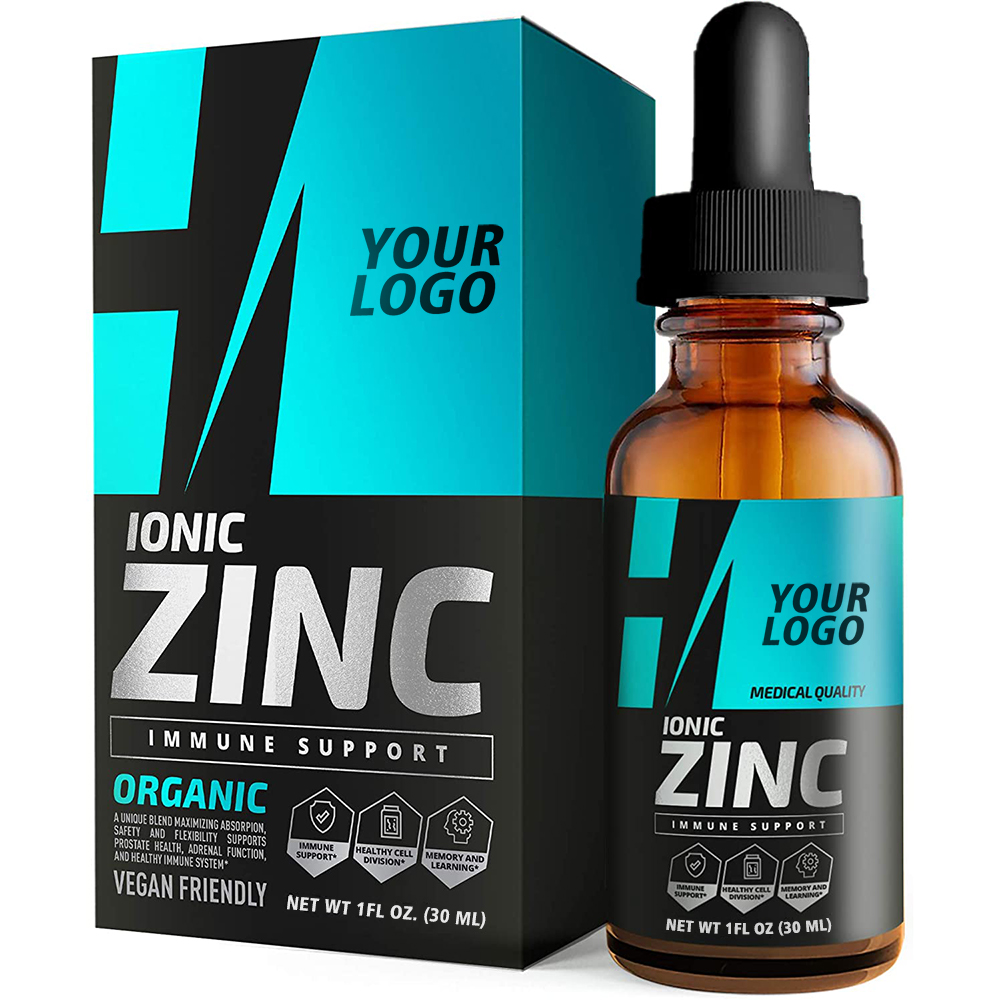 Best Selling Recommended by seller2020 Hot Sale Sleep CBD Melatonin Hemp Gummies For Improving Sleep Help Eye Health Depression$3.10 - $5.12 / Unit100.0 UnitsPrivate Label Hot Sale Health Supplement Immune Support liposomal
Vitamin C gummies
Bear Candy$3.50 - $5.50 / Piece500.0 PiecesBlack Elderberry Fruit Extract Gummies Elderberry Immune Support Vitamin C Gummies$3.50 - $5.60 / Piece100.0 Pieces500mg Per Caplet Vitamin C Chewable Tablets Pills For Healthy Immune System$2.00 - $4.56 / Piece500.0 PiecesPrivate Label 100% Natural Biotin Collagen vitamins Gummies for Skin care Hair And Nail Growth$3.10 - $5.50 / Unit200.0 UnitsNatural Metabolism Booster 800mg Garcinia Cambogia Green Tea Organic ACV capsules tablets for Weight Loss$3.65 - $5.12 / Piece1000.0 PiecesCBD gummies pure
CBD isolate
infused gummy hemp gummies$0.20 - $0.35 / Carat1000 CaratsOEM Service Private Label 10mg CBD Solid Beverage CBD Mix Drink For Sale$0.85 - $1.25 / Piece500.0 Pieces Company Introduction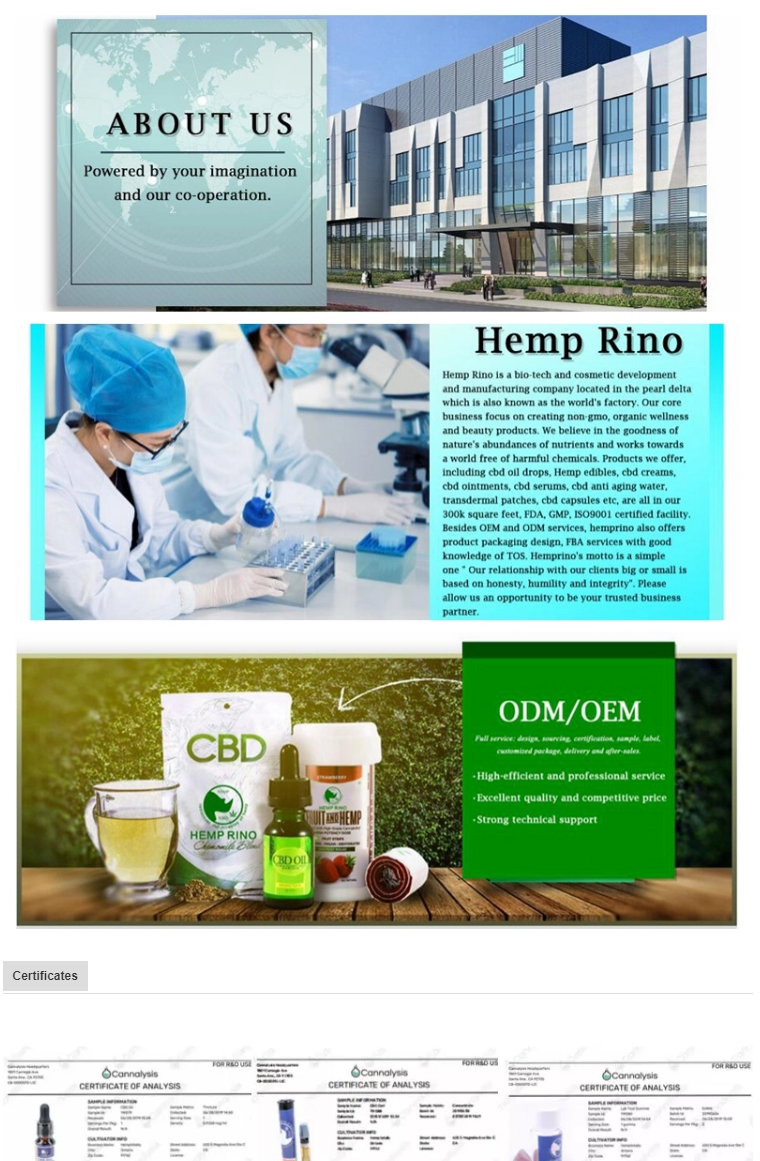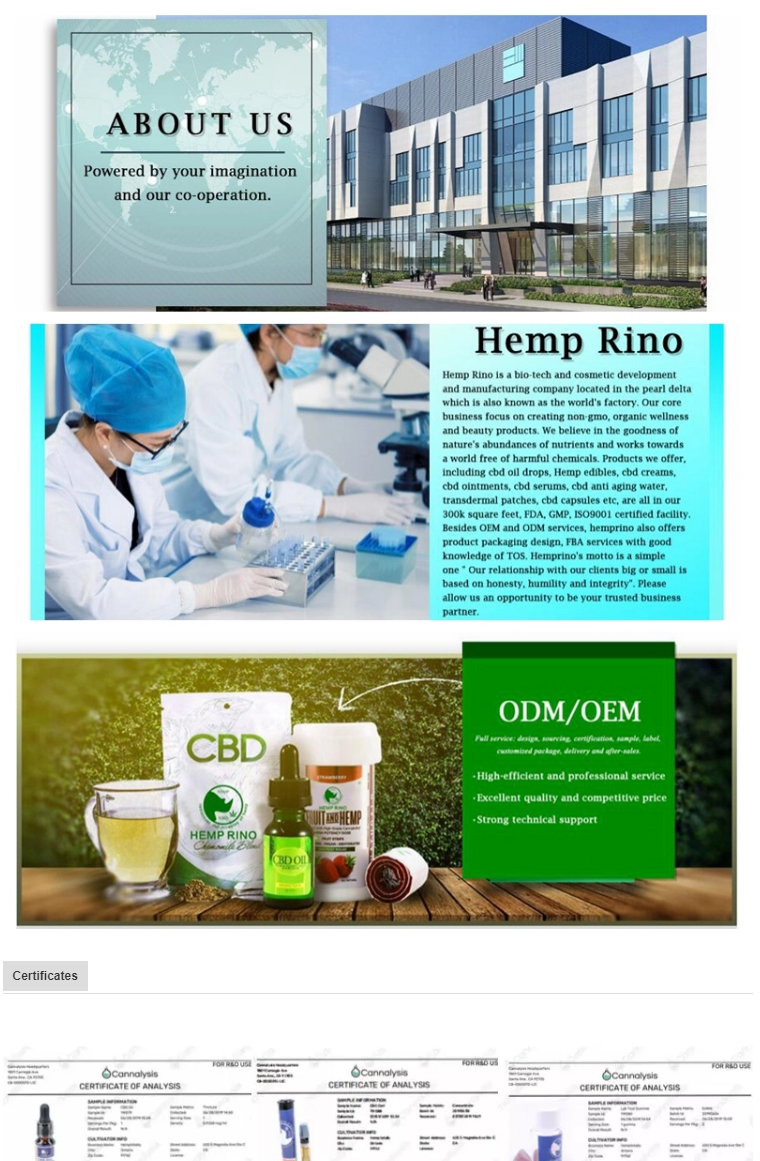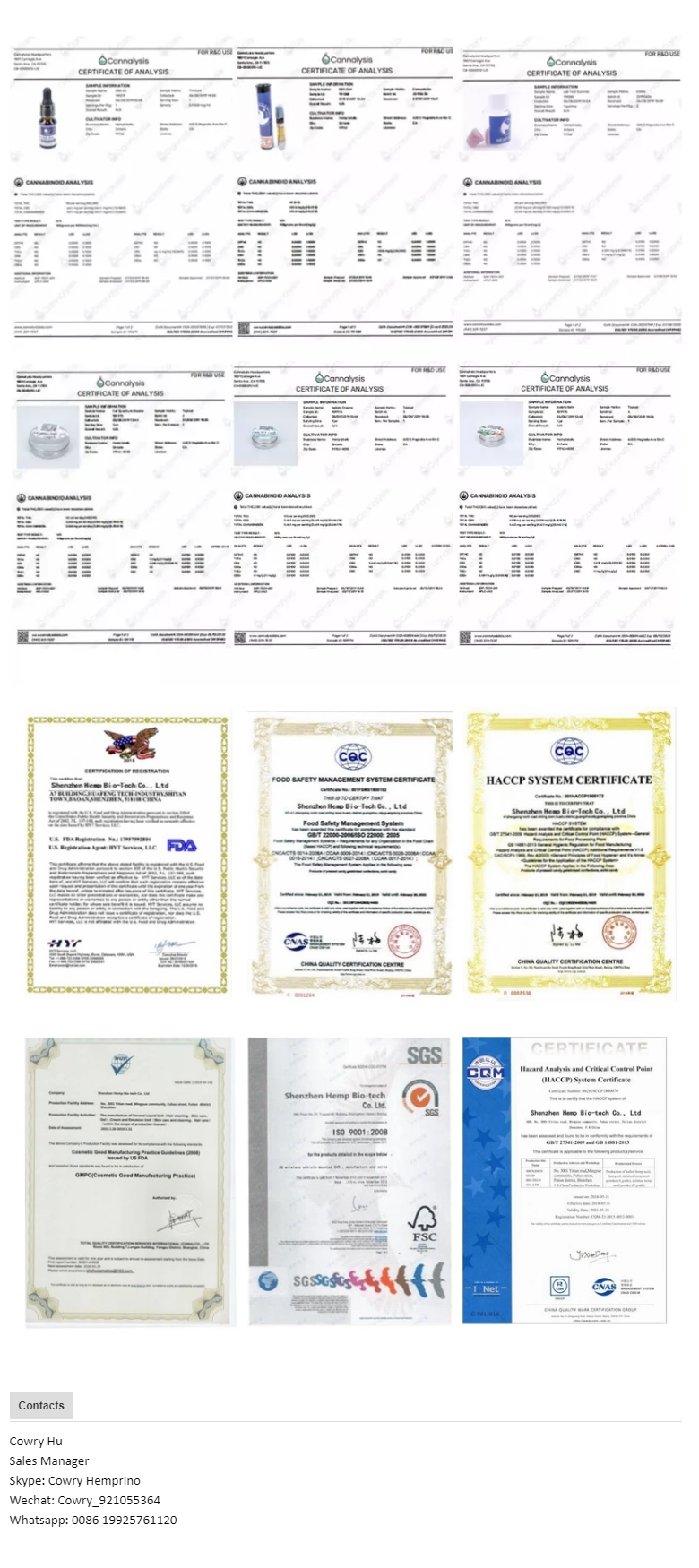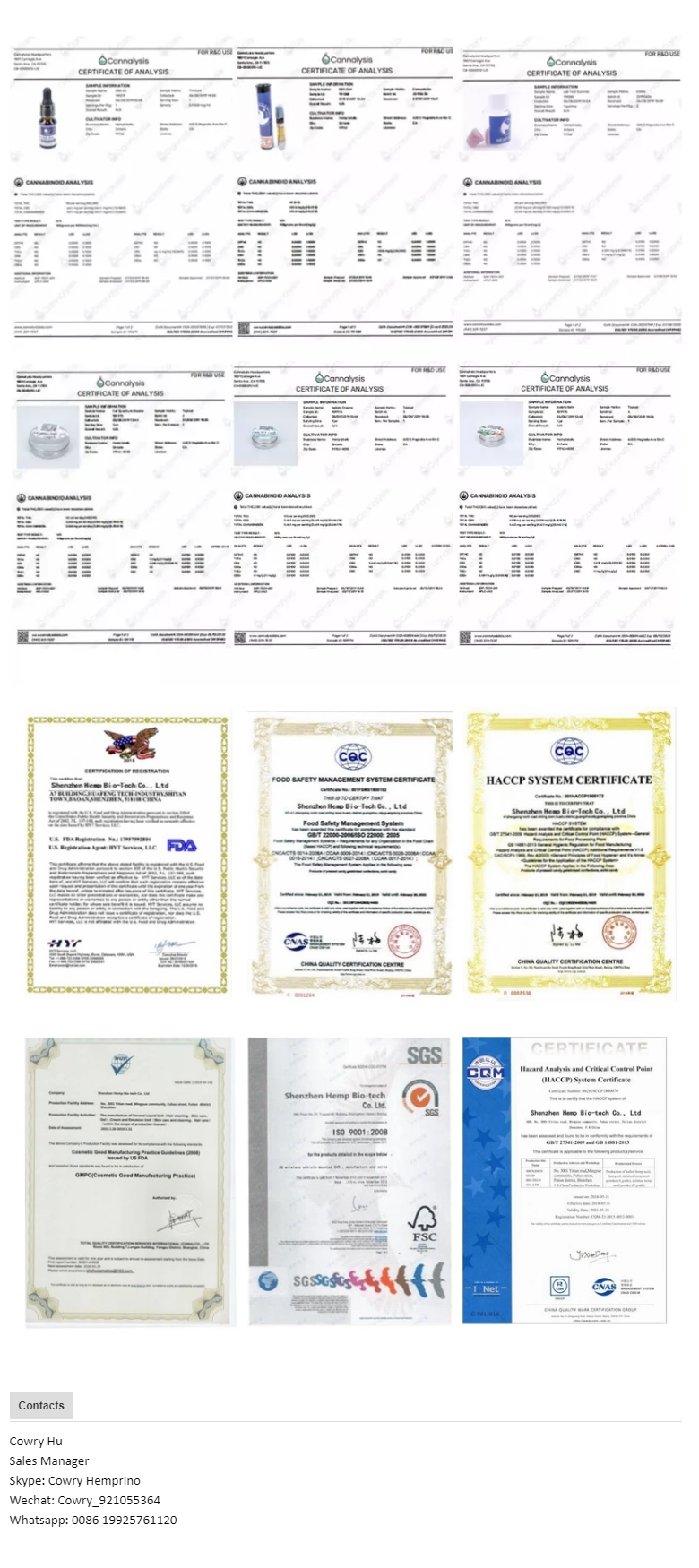 Contact us Sunny Huang Whatsapp:+8615875302347 Wechat:+15819739025 E-mail:sunny@vigoworld.com Contact us if you need more details on Private Label Zinc Supplemnet Vitamin C Zinc Elderberry Gummies Zinc Tablet For Immune Support. We are ready to answer your questions on packaging, logistics, certification or any other aspects about Oem Gummies Bear Zinc Vitamin C Tablets Zinc 50mg Vitamine Zinc Capsules Pills、Zinc Gummy With Echinacea Vitamin Supplements Zinc Tincture Zinc Supplements Immunity. If these products fail to match your need, please contact us and we would like to provide relevant information.
Product Categories : Supplement