#detail_decorate_root .magic-0{border-bottom-width:2px;border-bottom-style:solid;border-bottom-color:#53647a;background-color:#c5ccde;margin-left:0;margin-right:0;padding-left:8px;padding-right:8px;color:#53647a;font-family:Roboto;font-size:24px;padding-top:8px;padding-bottom:4px}#detail_decorate_root .magic-1{width:750px;border-collapse:collapse}#detail_decorate_root .magic-2{min-height:18px;padding:5px 10px;width:126px;min-height:18px;box-sizing:content-box}#detail_decorate_root .magic-3{min-height:18px;padding:5px 10px;width:559px;min-height:18px;box-sizing:content-box}#detail_decorate_root .magic-4{width:750px}#detail_decorate_root .magic-5{overflow:hidden;width:750px;height:750px;margin-top:0;margin-bottom:0;margin-left:0;margin-right:0}#detail_decorate_root .magic-6{margin-top:0;margin-left:0;width:750px;height:750px}#detail_decorate_root .magic-7{overflow:hidden;width:750px;height:421.875px;margin-top:0;margin-bottom:0;margin-left:0;margin-right:0}#detail_decorate_root .magic-8{margin-top:0;margin-left:0;width:750px;height:421.875px}#detail_decorate_root .magic-9{vertical-align:top}#detail_decorate_root .magic-10{padding:0;margin:0;color:#333;font-size:14px;padding-left:4px;font-weight:bold;white-space:pre-wrap}#detail_decorate_root .magic-11{font-size:24px}#detail_decorate_root .magic-12{vertical-align:top;display:block;padding-right:4px;box-sizing:border-box;padding-left:4px}#detail_decorate_root .magic-13{vertical-align:top;padding-bottom:4px;box-sizing:border-box;padding-top:4px}#detail_decorate_root .magic-14{padding:0;margin:0;white-space:pre-wrap;font-size:14px}#detail_decorate_root .magic-15{font-size:18px}#detail_decorate_root .magic-16{overflow:hidden;width:750px;height:501.49444918872763px;margin-top:0;margin-bottom:0;margin-left:0;margin-right:0}#detail_decorate_root .magic-17{margin-top:0;margin-left:0;width:750px;height:501.49444918872763px}#detail_decorate_root .magic-18{text-align:center}#detail_decorate_root .magic-19{margin-bottom:10px;overflow:hidden}#detail_decorate_root .magic-20{overflow:hidden;width:750px;height:669px;margin-top:0;margin-bottom:0;margin-left:0;margin-right:0}#detail_decorate_root .magic-21{margin-top:0;margin-left:0;width:750px;height:669px}#detail_decorate_root .magic-22{border-bottom-style:solid;border-bottom-color:#53647a;font-family:Roboto;font-size:24px;color:#53647a;font-style:normal;border-bottom-width:2px;padding-top:8px;padding-bottom:4px}#detail_decorate_root .magic-23{margin-top:0;margin-left:26px;width:642px;height:642px}#detail_decorate_root .magic-24{margin-top:-1px;margin-left:73px;width:609px;height:609px}#detail_decorate_root .magic-25{overflow:hidden;width:750px;height:743.354px;margin-top:0;margin-bottom:0;margin-left:0;margin-right:0}#detail_decorate_root .magic-26{margin-top:0;margin-left:0;width:750px;height:743.354px}#detail_decorate_root .magic-27{padding:0;margin:0;color:#333;font-size:14px;white-space:pre-wrap}#detail_decorate_root .magic-28{padding:0;font-size:16px;line-height:20px;color:#333;margin:0}#detail_decorate_root .magic-29{margin:0;padding:0}#detail_decorate_root .magic-30{padding:0;line-height:20px;font-weight:bold;color:#333;margin:0} Product Description
| | |
| --- | --- |
| Item: | CBD energy drink mix |
| Weight:  | 3g |
| Content of CBD: | 10mg |
| Sample: | Available |
| Certificates: | FDA, GMP, MSDS, SGS, COA |
| MOQ: | 500bags |
| OEM/ODM: | Customized logo and packing, 15 years successful OEM/ODM experience for brand product. |
| Shipment: | DHL, Fedex,UPS(sea shipping or air shipping is available if item quantity is large) |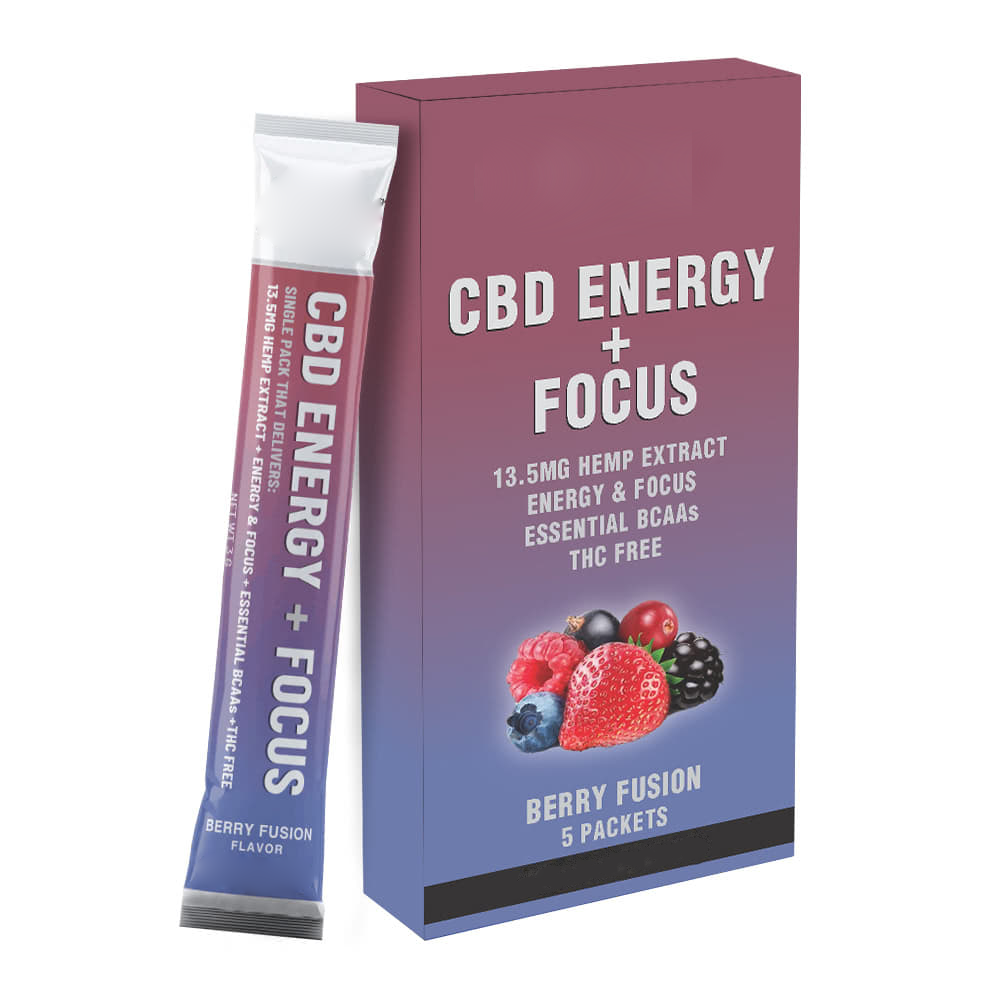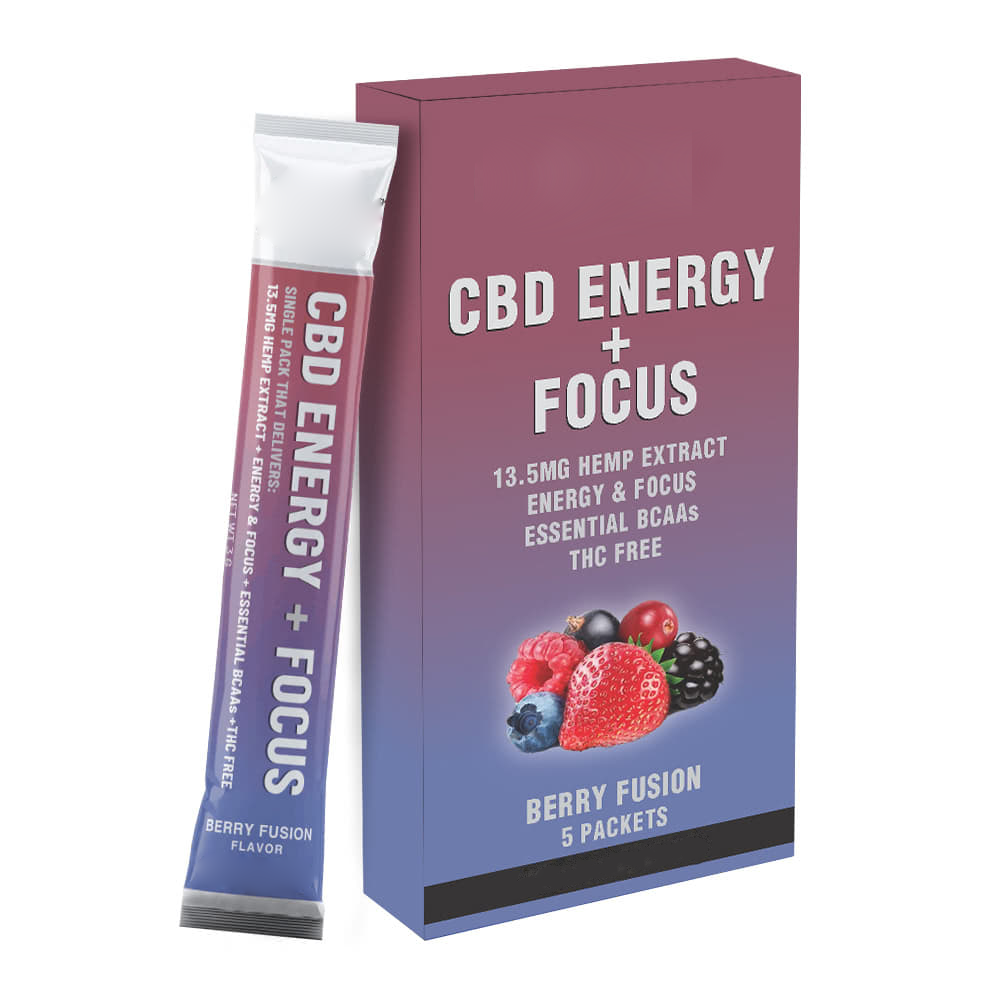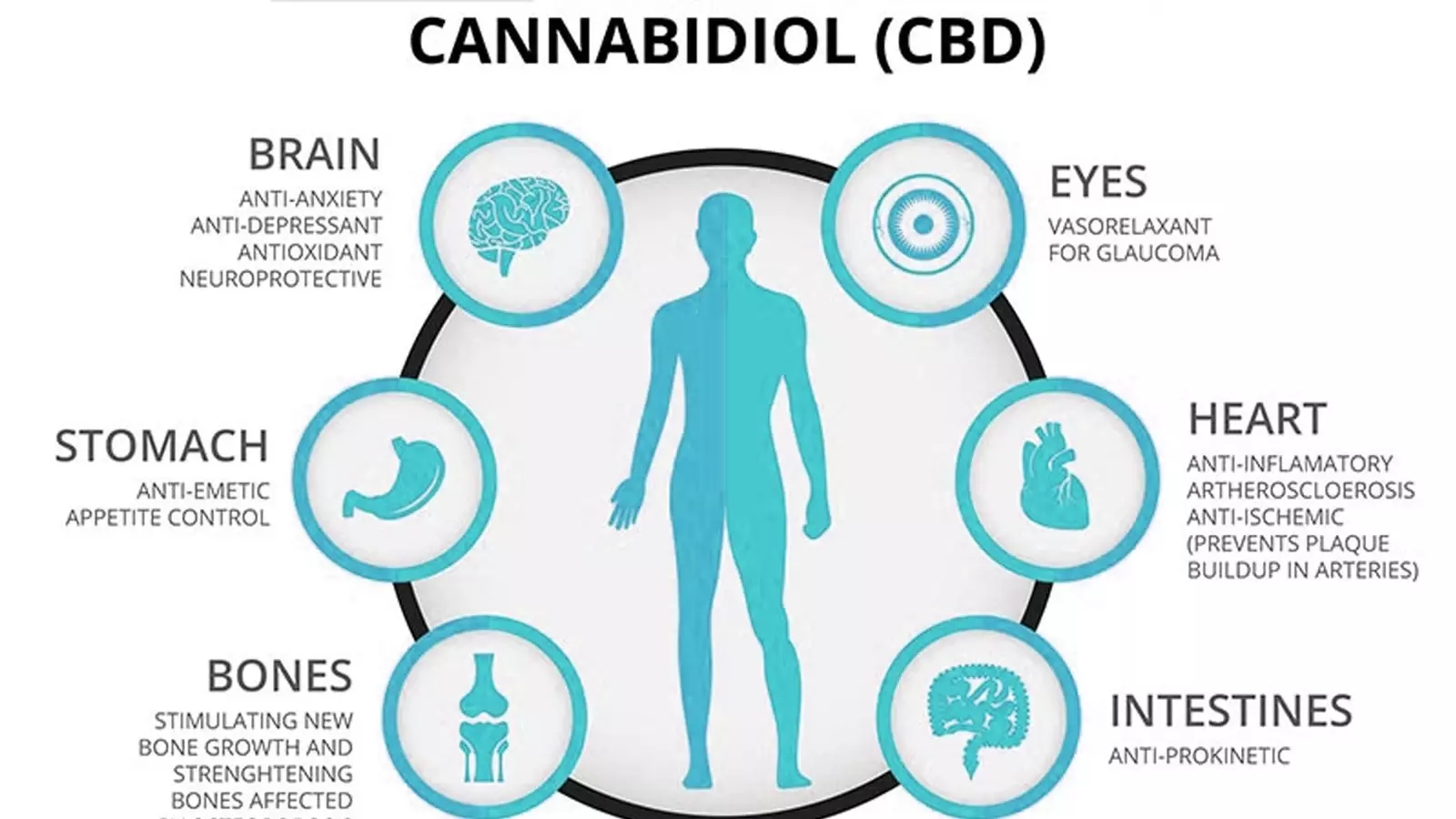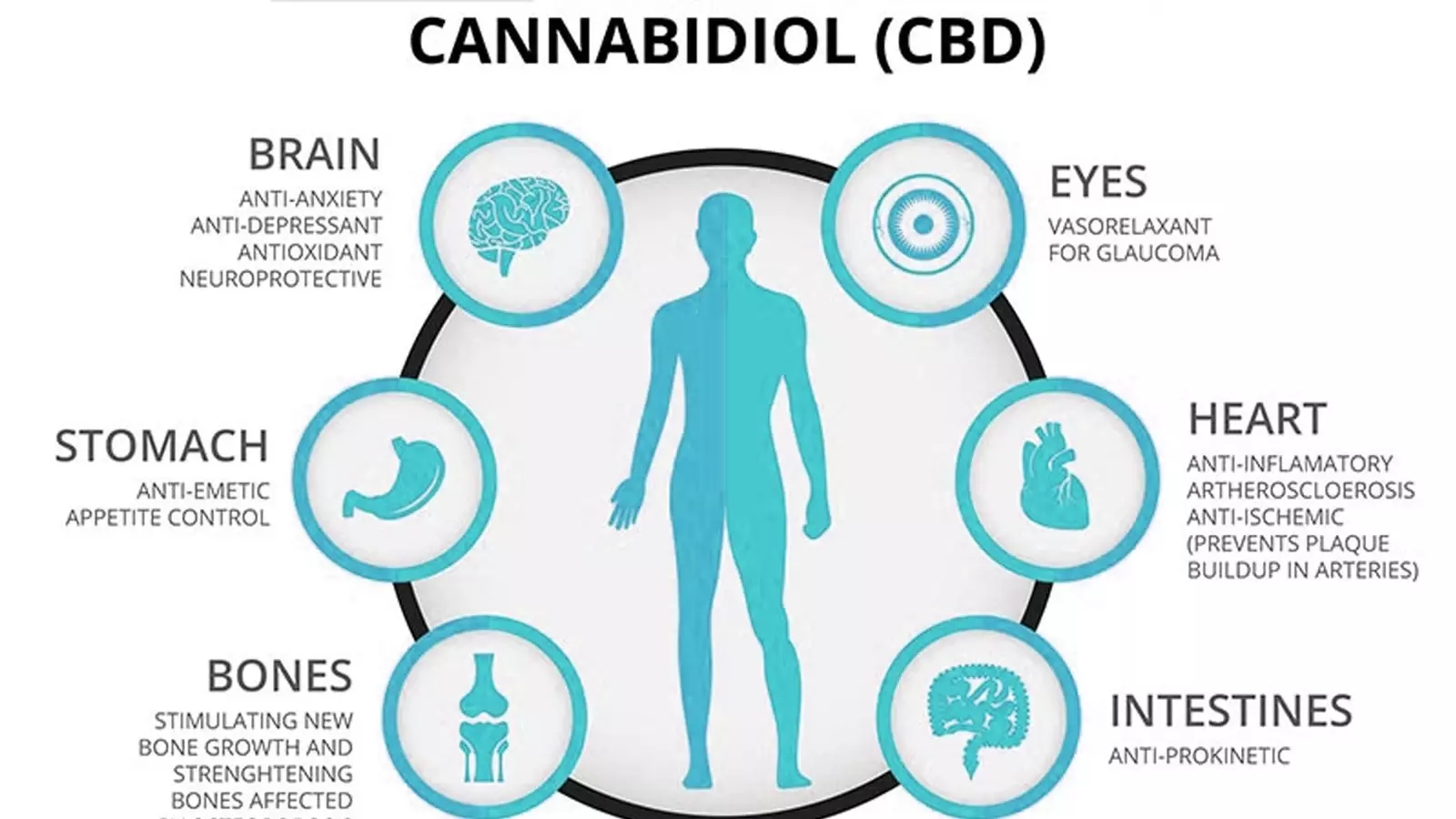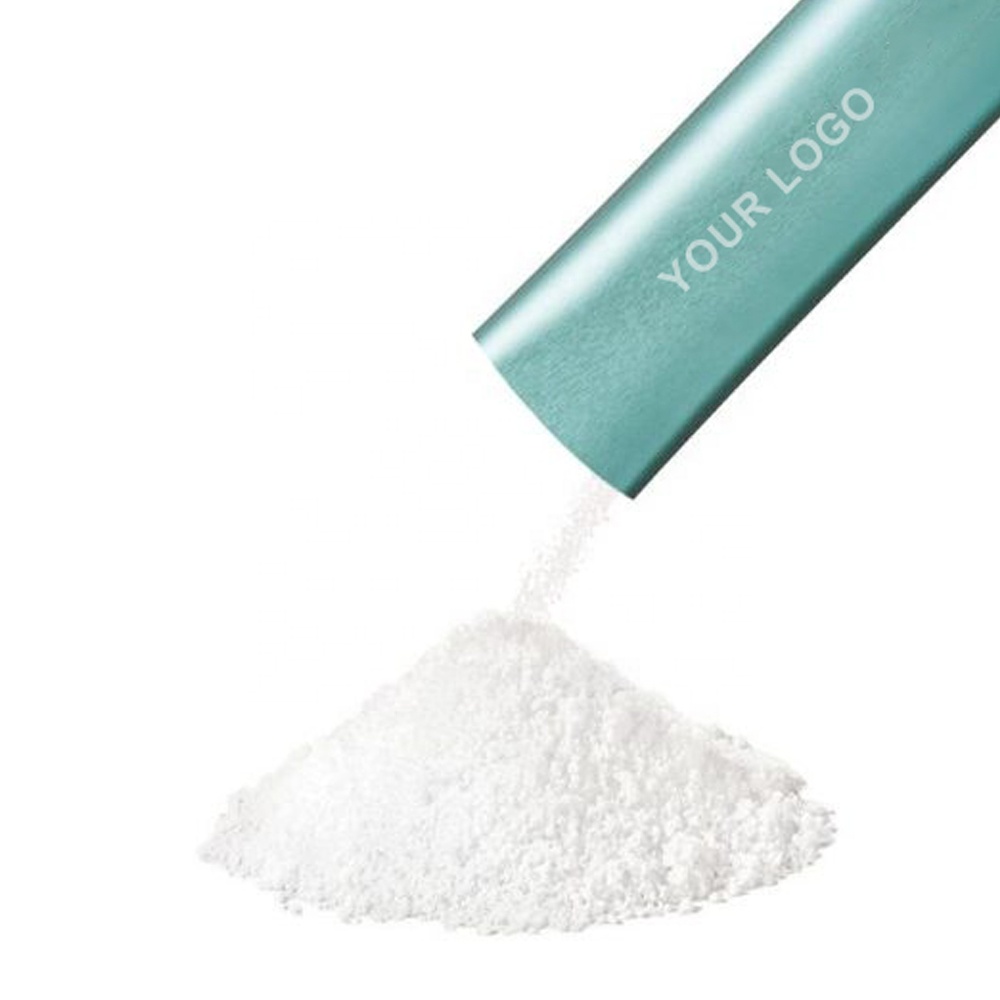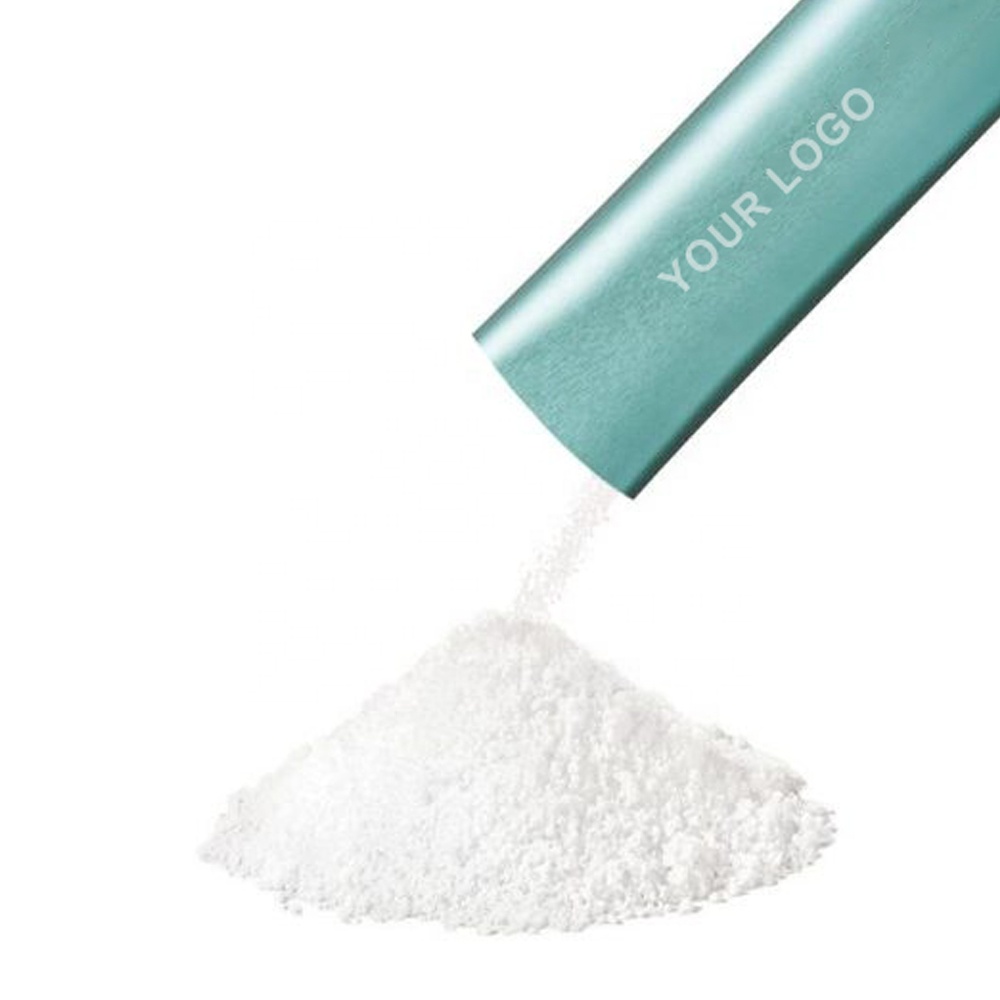 How to use ?IN HOT BEVERAGES (recommended): drop the desired amount of powder into the bottom of a cup and pour the hot drink right on top.
In Cold Beverages: drop the desired amount of powder into the bottom of a cup and pour the liquid right on top. Stir/shake well!
Everything Else: This CBD powder can go into anything. Foods, smoothies, baked goods, you name it! No special preparation is
required to unlock the benefits of this highly bioavailable hemp extract.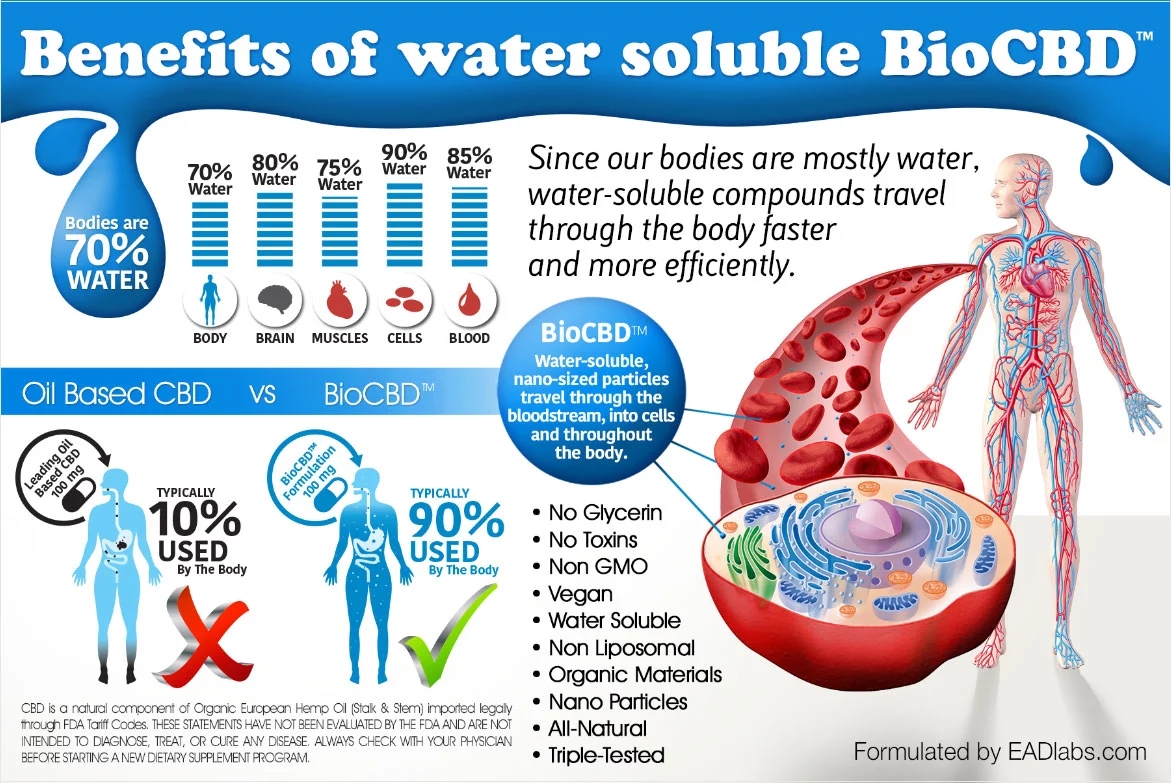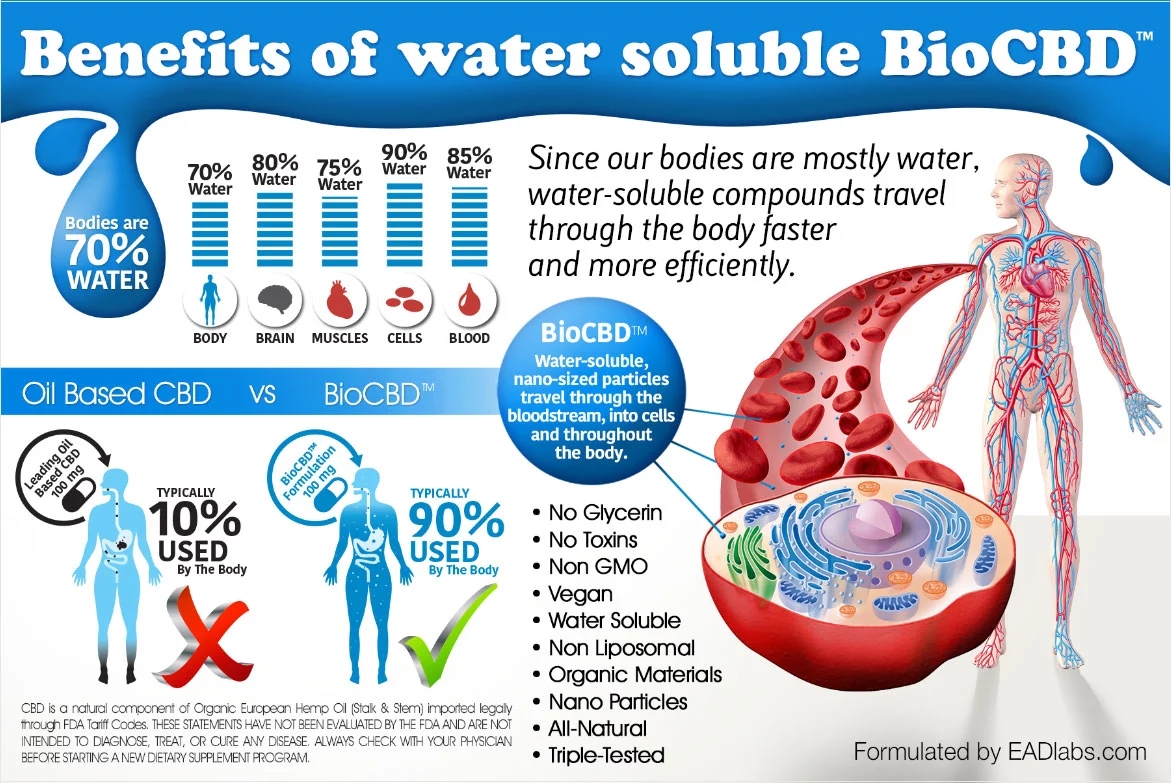 Advantages Of Our CBD Drink Mix Powder
1.INCREASES THE BIOAVAILABILITY OF ACTIVES. This liposome
Water soluble
CBD bio energy+drinks powder pack has up to 10X better absorption in the stomach than oil-based extracts, and really is the best choice for infusing any of your favorite drinks and
foods.
2.EXTENDS STABILITY AND SHELF LIFE.
Most liposomal products have a 30 to 90 day shelf life once opened,We packed our private label CBD beverage powders intoconvenient single-serving stick packs, which remain sealed and protected until use.
3.CONCEALS UNPLEASANT TASTE OF ACTIVES
Our advantaged liposome technology masks the mildly bitter taste of the CBD, minerals, and botanicals inside a nanoliposomal membrane of brain-boosting lipids. Thus, we can make powerful actives much more bioavailable in a variety of enjoyable flavor profiles (or completely unflavored). What's more, we use all-natural flavors and sweeteners to make fantastic tasting beverage powders that are naturally good for you. Related Products Recommended by sellerPrivate Label Terpenes CBD Oil CBD
Hemp oil
Terpenes with 10 Flavors$6.00 - $7.00 / Piece100.0 PiecesPrivate label Hemp Oil CBD Oil Softgel Capsules for Pain Relief$0.15 - $0.40 / Piece100.0 PiecesCBD Cream Private Label CBD Pain Cream for Muscle Pain Relief$3.75 - $6.50 / Box100.0 BoxesFull Spectrum Hemp Extract Natural And Organic Hemp Oil Balm
CBD Salve
For Pain Relief$3.75 - $6.80 / Box100 BoxesUSA Private Label CBD Gummies
Full spectrum CBD
Gummy 20MG CBD Candy Gummies$3.60 - $6.00 / Box100.0 BoxesOrganic Pure Hemp Extract
Full spectrum
CBD Oil 1000mg for Wholesale with Zero THC$7.00 - $12.00 / Box100.0 BoxesPharmacy Grade 20MG CBD Mask Facial Mask With CBD$1.20 - $2.00 / Piece300.0 PiecesOrganic Full Spectrum CBD Oil 10% 15% 20% Pain Relief CBD Hemp Oil Tincture$7.00 - $10.00 / Box100 Boxes Our Advantage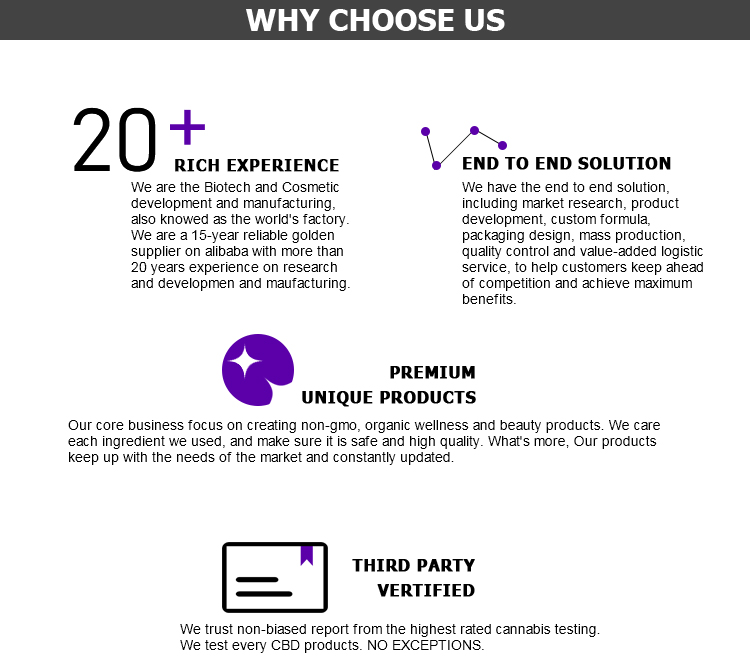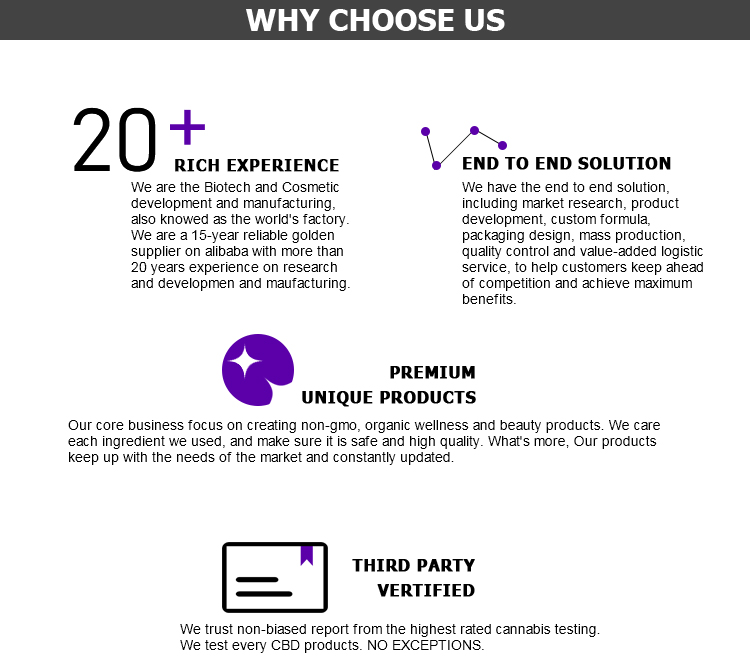 Certifications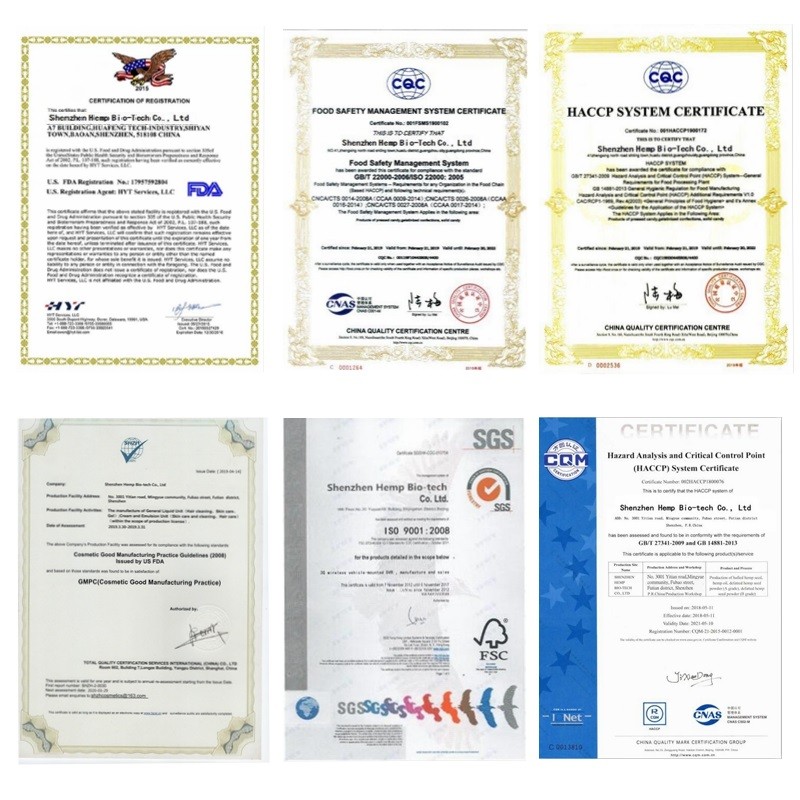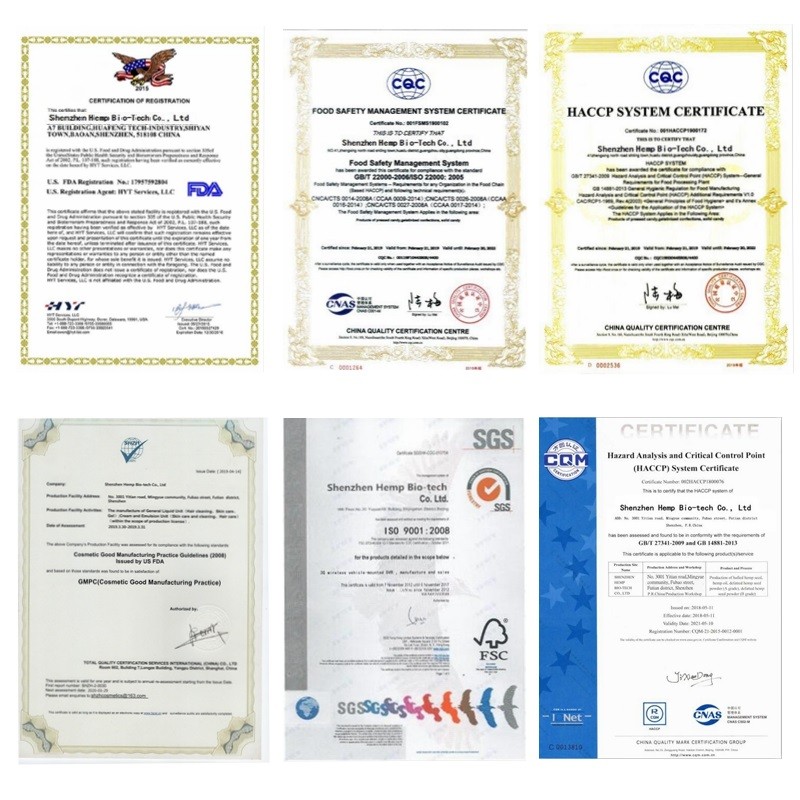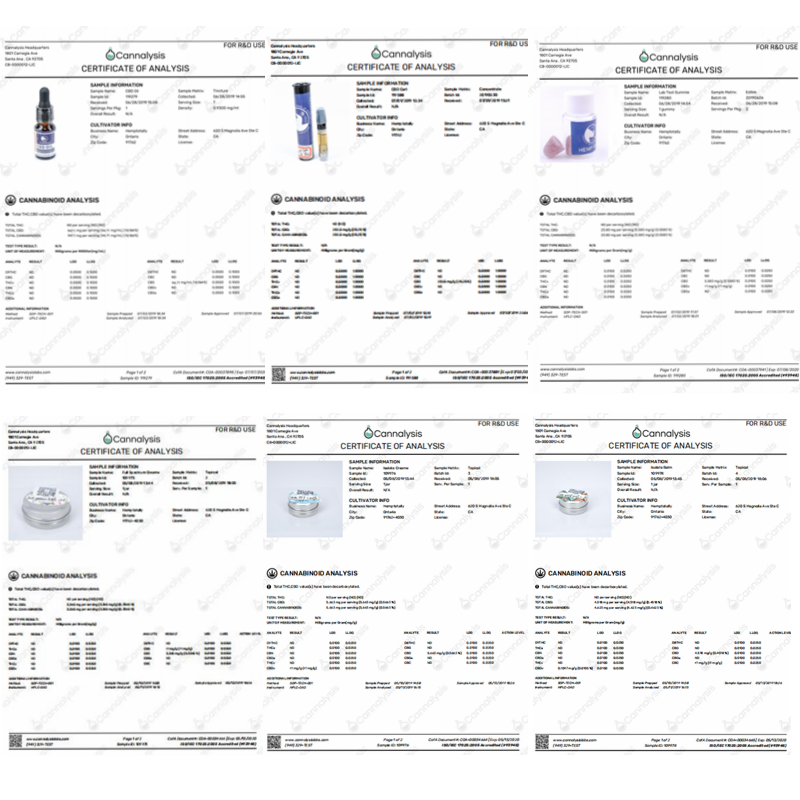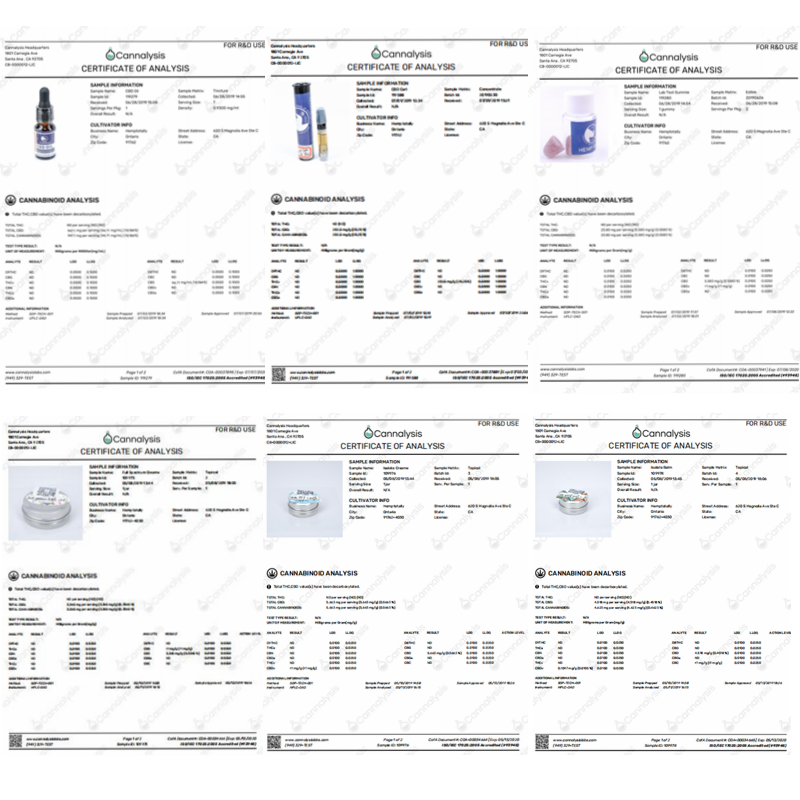 Company Profile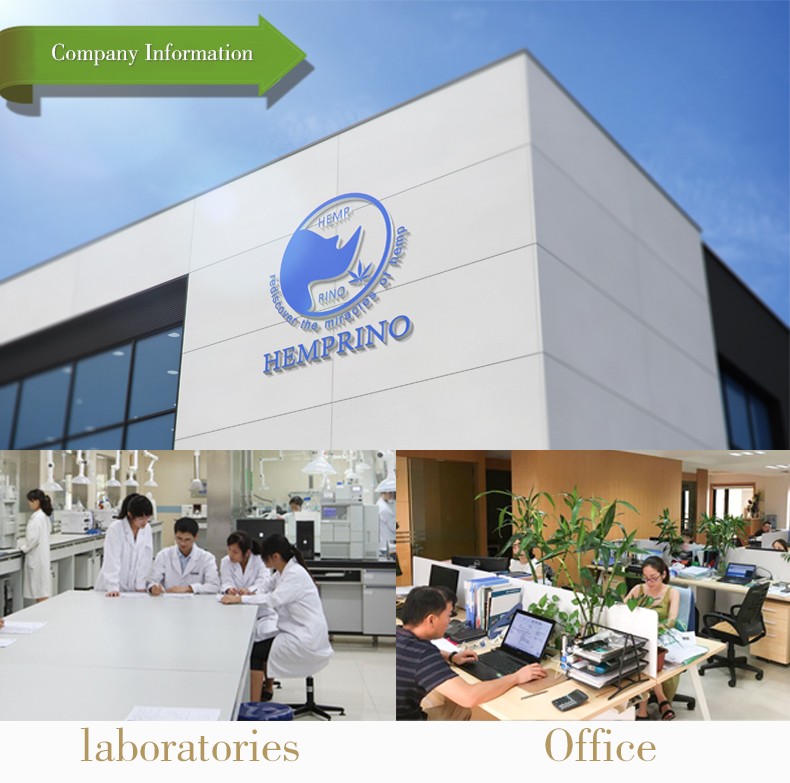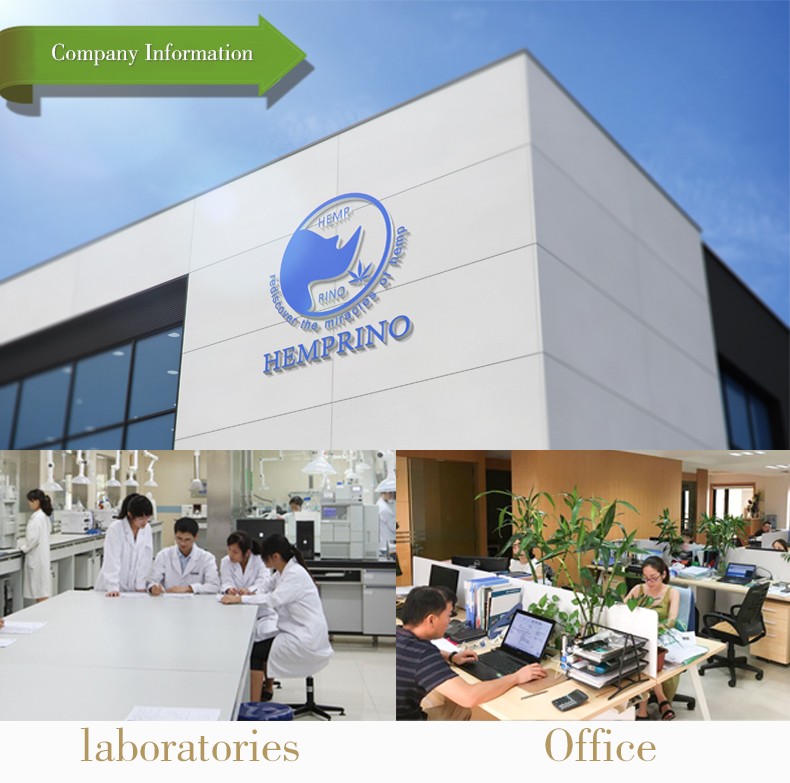 Hemprino is a biotech and cosmetic development and manufacturing company base in the pearl delta also knows as the world's factory. Our core business focus on creating non-gmo, organic  wellness and beauty products. We believe in the goodness of nature's abundances of nutrients and works towards a world free of harmful chemicals. Products we offer include cbd oil drops, Hemp edibles, cbd creams, cbd ointments, cbd serums, cbd anti aging water, transdermal patches, cbd capsules etc all in our 300k square feet FDA, GMP, ISO9001 certified facility. Besides OEM and ODM services We at hemprino also offer product packaing design, FBA  services with good knowledge of TOS. Hemprino's motto is a simple one " Our relationship with our clients big or small is based on Honesty, humility and intergrety".  Please allow  us an opportunity to be your trusted partner.
FAQ Q:Can I get some samples?
A:Yes, sample is available.
Q:How to confirm the Product Quality before placing orders?
You can get your samples lab tested and We are more than happy to provide you some of the labs in your locality.
Q:Can I do my own brand in small quantity?A:We gladly accept samll quantity orders with our existing stocks.For more details contact one of your sales. Contact us Sales manager: CarolineWhatsapp: +86 13266275981Wechat: +86 13266275981E-mail: caroline@hemprino.com Contact us if you need more details on Private Label Cbd Energy Drink Mix Powder Cbd Energy Drink
CBD isolate
Water Soluble Energy Drinks Cbd Drink Energy Drink Mix. We are ready to answer your questions on packaging, logistics, certification or any other aspects about Cbd Drink Mix Hemp Tea Cbd Tea Organic Cbd Cbd Powder Instant Drink Powder Orange Drink Powder Cbd Instant Drink、Cbd Tea Private Label Puer Tea Extract Powder Cbd Solid Drink Cbd Tea Detox Cbd Tea Bag Private Label Cbd Tea Iaso Cbd Tea Detox. If these products fail to match your need, please contact us and we would like to provide relevant information.
Product Categories : Water soluble